ClassE Featured in the JG-TC News!
Entrepreneur students sell their products at mall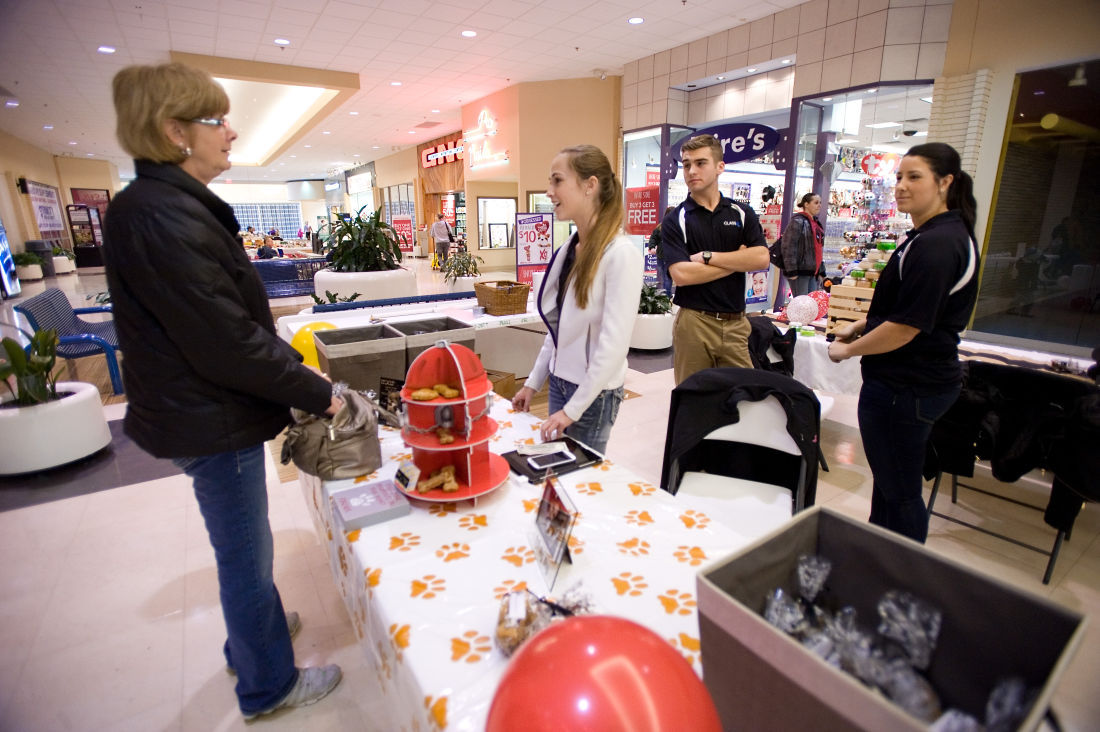 MATTOON -- Kristen Doty smiled broadly and exclaimed, "I just sold my first one," after selling a package of her Winston & Kristen's Puppy Treats on Friday at the Cross County Mall.
Doty, a senior at Mattoon High School, has been making her dog treats as part of the ClassE Coles County Entrepreneurship Class and selling them to various acquaintances this semester, but the transaction Friday afternoon was her first sale directly to the general public.
"It was really exciting. I was really nervous that nobody was going to buy any," Doty said, adding that she spent eight hours working on her batch of treats for the ClassE booth at the mall. The three flavors are peanut butter and pumpkin, sweet potato, and apple cheddar bacon bits.
ClassE students staffed this booth Friday through Sunday to sell the sugar scrubs that they have created as a class project and to sell products from their individual businesses, or promote those that are still in the works.
Mattoon juniors Katie Brush and Jenny Hildebrand have partnered to create Liberty Leo T-shirts, with 20 percent of the proceeds going to a big cat rescue sanctuary in Florida. They said their idea was inspired by the Ivory Ella clothing line that raises money for saving endangered elephants.
"We thought that by helping save endangered animals and not having all of the proceed go to us we could bring in customers," Brush said. They have taken more than a dozen pre-orders for their T-shirts so far.
Mattoon senior Kyle Packer said he is preparing for the arrival of his first shipment of customized, character-design socks with his Kickers Sock Co. individual business. In the meantime, Packer said he and his fellow students are selling items from the ClassE sugar scrub product line that they launched last fall.
Packer said said the scrubs are available in vanilla honey, lavender, and coconut lime scents, in both regular and whipped varieties. He said the regular variety has a grainy, sand-like feel, whereas the whipped variety has more soap in it for a softer consistency. He has had a crash course in sugar scrubs during this school year.
"I didn't event know these existed before they were brought up in class," Packer said, with a laugh. He added that the owners of the local Vintage Cottage Beauty business introduced his class to sugar scrubs.
Hildebrand said she and her classmates spent all day in the kitchen of their ClassE instructor, Jeanne Dau, mixing up the sugar scrubs. She said this was a good team-building experience and helped them learn how to work more efficiently.
Charleston High School junior Ryan Chambers, whose individual project is Fun Life Tech smart phone accessory sales, said he has enjoyed learning hands-on lessons in ClassE and getting to make connections with guest speakers and tour hosts from the business community.
All of the money raised from sugar scrub sales goes toward funding the students' individual businesses. Their projects are scheduled to be on display during a trade show on May 2 at the LifeSpan Center.
This is the fourth year for ClassE. The mission is to educate Coles County and Neoga high school juniors and seniors about the opportunities and challenges of starting and running a new business venture.
For more information about this class, log on to www.keepitclasse.org or like them on Facebook.